The Social Network - * * * 1/2
AndyO review: 4/4 stars
This film -- as a story -- succeeds on almost every level. But the book it's based on, The Accidental Billionaires: The Founding of Facebook: A Tale of Sex, Money, Genius and Betrayal
, is full of inaccuracies and is poorly written (I read a sample on my Kindle and I couldn't even get through the first chapter). My worry is that over time this film might be seen as the official story of what happened with the founding of Facebook -- but I guess there are enough whistleblowers out there. If you want to see what I'm talking about with the inaccuracies, take a look at these stories:
The Ten Most Glaring Lies in The Social Network
Slate: Facebook Fakery - The Alternate Reality of Aaron Sorkin's The Social Network
So, I have mixed feelings about a brilliant film that appears to include a lot more fiction than fact.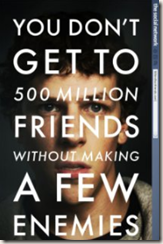 Labels: film
posted by AndyO @ 8:42 PM
0 comments