Transformers: Revenge of the Fallen - Theater
AndyO review: * 1/2
After seeing the first Transformers movie, I was hopeful that Michael Bay had finally learned how to make a really good action film. After seeing Transformers: Revenge of the Fallen, it appears Bay has slipped into his ways of old.
Let's put it this way: If you want to see 2-1/2 hours of wall-to-wall explosions, CGI robots destroying each other -- as well as most of what's left of ancient Egypt) -- and some really sexist shots of Megan Fox, then this is the summer film for you.
So, I thought the first rule of storytelling was that you need to have peaks and valleys in the story? If you only write action scenes, it's like listening to AC/DC turned up to 11 for 2 hours.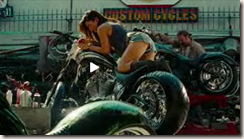 Steven Spielberg was the exec producer on Transformers, as well as on this film. Surely a director with such great story sense and pacing must have had a conference with Bay during the script development? I imagine it going something like this: "Mike, I love the script, but I have one small question: Why is every scene filled with action? There are no small human moments, like in the first film, where we got to know the characters."
To which Bay answered:
"Steve, who cares? Transformers was pretty much wall-to-wall action. And people ate it up! You can't argue with $319,246,193 in the U.S. and $708,272,592 worldwide! And now that HD-DVD is dead, thanks in no small part to my negative campaigning, and most consumers have no choice for their HD format, we can charge them a sh**load and make even more in the home video market!"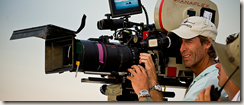 It appears that Bay was right (about the money, anyway), because in three days, Transformers 2 has made $125,946,000. So, it looks like we'll be getting another Transformers in two to three years. I'm just not sure I'll be sitting through another one of Bay's films.

Released: 2009
Go to IMDb page
Information © IMDb.com
Transformers: Revenge of the Fallen
Shia LaBeouf, Josh Duhamel, John Turturro, Kevin Dunn, Isabel Lucas, Matthew Marsden,
Labels: film
posted by AndyO @ 6:44 PM
0 comments